Flooring Installation Contractor Near Me in West Bloomfield
20 Years of Experience
Custom painting professionals
Quick estimates and transparent pricing
Owner present on every job
West Bloomfield Flooring Contractor You Can Trust
Looking for a top-rated, quality-focused flooring contractor in West Bloomfield or nearby?
Whether you want hardwood, laminate, tile or vinyl floors installed, Detroit Painting & Remodeling Pros has the knowledge and expertise to help you achieve the look you want for your home or business.
Our prices are reasonable and our work is exceptional.  We also work on a number of commercial and residential construction projects. From a single room to a full house, restaurant, or apartment complex, we've done it all.
We are a locally owned home improvement company. We serve West Bloomfield and the surrounding areas.
Fast & Easy Detailed Quotes
A Locally-Owned & Operated Painting Company
Fair & Transparent Pricing
Professional painters with over 20 years of experience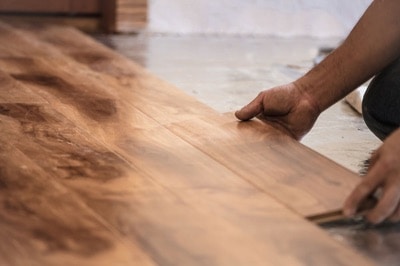 HARDWOOD INSTALLATION
Hardwood floors are a classic, aesthetically pleasing flooring option that is built to last. Hardwood flooring is long-lasting, resilient, and may be entirely restored to its original "new" splendor if necessary in the future decades. Hardwood floors are installed and properly restored by us.
LVP / VINYL INSTALLATION
If you want to make a lasting impression with your flooring but don't want to pay the expensive price of hardwood or stone, luxury vinyl is the way to go. With its spectacular appearance and affordable pricing, luxury vinyl has become the go-to flooring alternative.
LAMINATE INSTALLATION
If you want the look of hardwood flooring but are on a budget, laminate flooring is a terrific option. We would be pleased to install laminate flooring in West Bloomfield that you have pre-purchased or we can provide a selection through our vendors and suppliers.
TILE INSTALLATION
We're experienced in working with different types of tile such as ceramic, porcelain, glass, marble, granite and natural stone tile. We offer installation on floors, walls, bathrooms, showers, entranceways, etc. We offer many solutions  from simple elegance to intricate designs.
STONE INSTALLATION
Stone flooring is a lovely and long-lasting alternative for homeowners. Breaking with tradition of utilizing stone only in bathrooms, kitchens, and entranceways is becoming increasingly popular. Stone is being used in a variety of ways, including living rooms, dining rooms, and bedrooms.
BACKSPLASH & WALL TILES
Adding a backsplash to a kitchen or wall tiles to a bathroom may completely transform the room's appearance. This simple addition is an easy, cost-effective way to update a kitchen or bathroom on a budget with Detroit Painting & Remodeling Pros. Contact us now for backsplash installation in West Bloomfield!
SCHEDULE APPOINTMENT
We want to make sure that your in-home flooring consultation fits into your hectic schedule as smoothly as possible. Let us take care of the logistics. We guarantee a timely and attentive appointment.
WE WILL COME TO YOU
There is no better place to get a true sense of what flooring options will work best for you than in the actual rooms. We will work around your schedule! We will be more than happy to answer any questions you may have.
FREE ESTIMATES
We will provide an exact price for flooring installation without any hidden fees or surprise expenditures by visiting the home or building. Your estimate will be comprehensive and simple to comprehend.
PROFESSIONAL INSTALLATION
Each of our crew members is dedicated to delivering great workmanship with every installation, ensuring that we keep our promises of excellence. We are simply professionals in the installation of all types of flooring.
HARDWOOD FLOORING
Hardwood floors are a timeless choice for any area in your home, as they are both beautiful and long-lasting. We can assist you with everything from your foyer through your kitchen, staircase, and bedroom. Installing your flooring by a hardwood/solid wood craftsman ensures that they will look fantastic and endure a long time.
Installing hardwood flooring is always a wise decision because it never goes out of style and increases the overall value of your property. Hardwood flooring is long-lasting, resilient, and can be entirely restored to its previous magnificence if necessary in the future decades. Hardwoods' durability and quality have improved throughout time as a result of technological advancements, ensuring that they will survive for decades to come.
LVP / VINYL INSTALLATION
In recent years, vinyl flooring or LVP flooring has become very popular. Vinyl flooring come in many styles, colors and sizes. Luxury vinyl planks have been trending in recent years.  Older homes can instantly get an upgrade in feel at a lower cost compared to hardwood flooring.
Vinyl flooring surfaces are harder than hardwood flooring and less vulnerable to scratches and damage.
LAMINATE INSTALLATION
If you want new flooring but are on a budget then you may want to consider vinyl flooring. Vinyl flooring is more affordable thant hardwood or laminate. There are plenty of options and many styles and colors to choose from. 
We install pre-purchased laminate flooring or we can provide options for you to choose from. 
TILE INSTALLATION
Tile is a flexible product that can make a great difference in your house, from flooring and wall tiles to backsplashes and ornamental accents. It's also known for being difficult and dirty to install, requiring specialized tools and experience to achieve the best results.
Tile flooring, which can last a lifetime, comes in a considerably greater range of colors, textures, and designs than hardwood. Every style, from modern to classic to contemporary, has a tile design to match. When it comes to durability, aesthetics, upkeep, and pricing, tile is unrivaled. Furthermore, it is regarded as one of the most environmentally friendly flooring options for your home. Request a free estimate to learn more about our tile installation services.
STONE INSTALLATION
Stone is a classic flooring option that can offer elegance and sophistication to any space in your home. Natural stone is prized as a flooring material because of its exquisite designs, which are one-of-a-kind tiles that fit together wonderfully in a complicated flooring pattern.
Stone flooring is a lovely and long-lasting alternative for homeowners. Breaking the convention of using stone only in bathrooms, kitchens, and entryways is becoming increasingly popular. From living rooms to dining rooms, bedrooms, and patios, stone is being used in innovative and attractive ways. With gorgeous bespoke floor designs in any part of the house, our flooring design professionals can help you fulfill your idea.
WALL TILE & INSTALLATION
When properly completed, kitchen backsplashes and bathroom wall tiling are among the simplest modifications a homeowner can make to dramatically improve the look and feel of their house.
Backsplashes and wall tiles are both simple and inexpensive updates for any kitchen or bathroom, particularly for those on a budget.
Wall tiles and backsplashes not only look good, but they also protect your walls from water, grease, and food stains. The upkeep of wall tiles and backsplashes is uncomplicated and easy.
When compared to most painted walls, these tiles are easier to clean and provide a more durable surface protection.
Additional Home Improvement Services We Provide to Detroit MI Homeowners
Exterior & Interior Painting
Fence Painting & Staining
Pressure Washing
Bathroom Remodeling
Floor Installation Services
Drywall repair
Wallpaper removal